A self-initiated project in which I developed an app for the Detroit Pistons to keep their supporters up to date on their NBA game schedule, team news, trades, recent results, interviews, and other relevant information. I set out to create an easy-to-navigate UI while also enhancing social and personal interaction with both the app and the Pistons.
Sports plays a prominent role in our everyday life. Whether it is for enjoyment or distraction, we watch sports to help us distract ourselves from everyday life. Sports has also been identified as playing a key role in the construction of autobiographical memories among families as well as providing bonding moments with friends and family.
Through harnessing this connection between sports and the supporter, the Detroit Pistons app provides users with a personalised app that keeps them updated with the latest news and results. For example, a Twitter feed has been added to the news page for the user to keep up to date with the latest news, ensuring they never spend a moment away from their beloved team.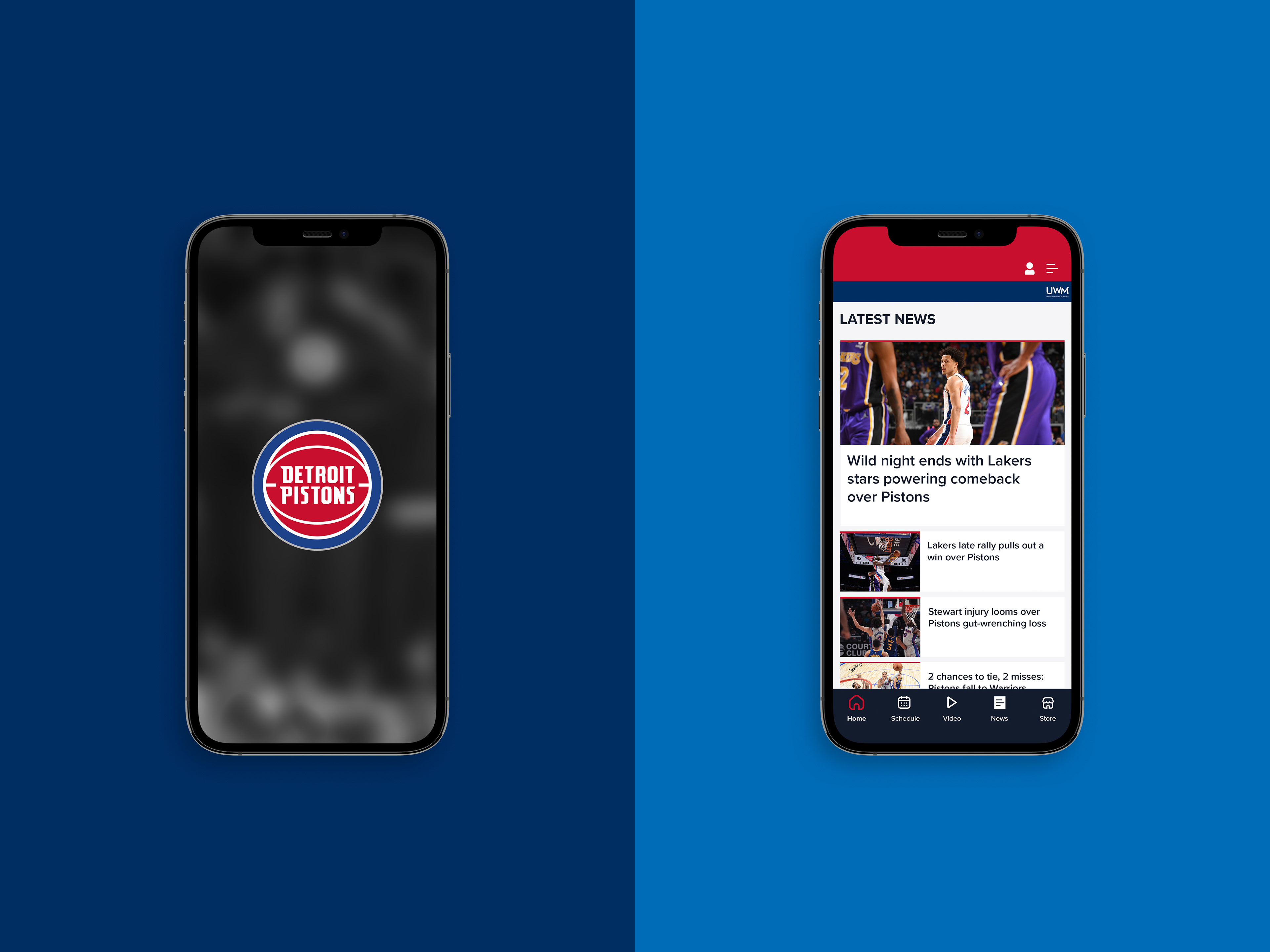 The user is presented with the latest news, fixtures, results, and videos of the Detroit Pistons on the Home Page. The user is presented with the most important information first, with additional information available if they choose to explore further.
The schedule informs the user of the Pistons' upcoming NBA schedule, including home and away games, previous results, and the Eastern Conference standings. As the season progresses, the Eastern Conference table allows the user to keep track of the Pistons' standings.
The video tab allows users to catch up on any missed games, with Pistons Playback giving a condensed highlights video of the game's most key moments, removing the need to browse YouTube for a complete game video. In addition, the user will be able to access post-game interviews and press conferences with the coach and players, in which they will discuss their thoughts on the game.
The user will be able to find post-match summaries or articles produced by specialised Pistons beat writers, ensuring that the user never misses a single moment of the season and keeping them up to date with the NBA's ongoings. The user will also have access to the Detroit Pistons' official Twitter feed, which will allow users to stay up to current on team news such as line-ups and injuries without having to go to the Twitter app.
Pistons diehard fans can purchase new jerseys or merchandise from the official Pistons 313 store to show off their support for their favourite NBA franchise.