For my final major project at the University of Portsmouth, I was given the opportunity to choose an area of study I am passionate about, undertake substantial research and respond by designing a successful outcome.
For my area of study, I opted to focus on the Bangladesh Liberation War. I came to an understanding of the Liberation War in terms of events that occurred before and after the war, such as Operation Searchlight and Sheikh Mujibur Rahman's assassination, after conducting extensive primary and secondary research. In addition, when battling the Pakistani Army for independence, the innocent civilians of Bangladesh were subjected to horrific occurrences such as rape and massacres, and I gained knowledge of the terrible effects of war on a country.
This project takes the reader on a visual journey of the Bangladesh Liberation War through the use of images and design, as the aim of the book is to educate readers on Bangladesh's war for independence by going into detail on key events that helped shape the outcome of the war.
Because many young people, particularly Bengalis, have no understanding of how Bangladesh became independent from Pakistan or what happened during the Liberation War, I decided to write this book for a young audience. As a result, I chose this topic for my project because I wanted to draw attention to the conflict in Bangladesh and the hardships it had in gaining independence from Pakistan.
In terms of contextual research, I used a variety of sources, including books, articles, and videos, to learn more about what happened before, during, and after the war, as well as how Bangladesh fought a brutal battle to gain independence from Pakistan. Another thing I learned from my contextual study is about Bangladesh's illustrious history, including how the country did not achieve democracy until late 1990, following two dictatorships under Ziaur Rahman and Hussain Muhammad Ershad. In addition to this, I studied Sheikh Mujibur Rahman's presidency of Bangladesh, which allowed me to see how Mujib was a brilliant revolutionary but a bad leader, as he was assassinated by his own army commanders due to his autocratic leadership.
For inspiration on how to design and layout my own book, I looked at several magazines and publications such as "Lost in," "Fantastic Man," "Mundial" magazine, and "The Politics of Design". Seeing how the examples formatted and arranged the header and body text inspired me to think of new methods to communicate information about the war. Apart from visual influences, I was also influenced by authors such as Yasmin Saikia, who documented the atrocities committed by the Pakistani Army and its collaborators against Bengali women, which in turn gave me the vision for how I would write my book, including what events I could write about, my writing style, and how I would piece each event together chronologically.
Throughout this module, I experimented heavily with my visuals as I tested out different grids, compositions, image placement as well as the size of the header and body text. As seen in my resolutions folder, I conducted countless experiments, testing out different ways I could organise my text while making it legible, proofreading my writing and making sure it was readable for the viewer to digest and help them gain a better understanding of the war.
In order to communicate what happened in the Liberation War, I chose to create a book showcasing a timeline of when and how the war started to the aftermath of the war, and how it affected Bangladesh, in terms of key events such as the assassination of Sheikh Mujibur Rahman. Creating a book allowed me to fully communicate as I used different ways to communicate the events through the use of images, text and infographics, such as the 1970 Pakistani general election table showing how the Awami League won the election, which in turn led to the start of the war due to their growing demand of independence. 
During the development of this book, one thing I wanted to avoid was overusing one type of media. For example, depending too heavily on graphics to mask any information gaps. If you have to rely on images to explain your point, your book will, in my opinion, be less effective. Despite the restrictions of a printed book, this module forced me to step outside of my comfort zone and consider how I would express my message. 
The text typography is Termina which was designed by Mattox Shuler in 2015. The typeface features wide proportions and a large x-height, allowing it to be used at small sizes while yet remaining legible, especially in full capitals. It's also practical, tidy, and legible, making it ideal for reading long stretches of text.
The colour palette was chosen to suppress the limitations black and white photos have, as I stuck to a black and white palette, but used colour when needed. The secondary colours used were bright and colourful, creating a visual identity for the book. Furthermore, the images used were heavily manipulated, employing the use of halftone filters and noise.
For the front cover, I had to think of a book title before moving forward with creating the cover. The titles I came up with were:

- Bangladesh's Fight for Independence: A Timeline of the 1971 Liberation War
- Fear and Loathing in Dhaka: A Story of Bangladesh's Fight for Independence
- 1971: The Bloody Birth of Bangladesh

My personal favourite was the Fear and Loathing title, but my peers told me it wasn't a good title for a book about the Liberation War, hence why I have chosen to move forward with "1971: The Bloody Birth of Bangladesh", which was used for a Time Magazine cover.

This design process was simple as I wanted a picture to be used on the front cover instead of screen-printing an illustrated design. As well as this, I have designed three covers, one featuring a refugee experiencing hardship and two covers showing freedom fighters in their informal outfits, which details how the Mukti Bahini was filled with villagers and everyday citizens.
In terms of the specifications, I specified to the printing company, called Digital Printing, I wanted my book to be "Perfect Bound Book A5, Cover Silk 300gsm, Inner Silk 130gsm, Portrait, Perfect Binding, Cover Both Sides, Cover One Side Matt, Inner Both Sides, Inner No Lamination, Spine Thickness: 9mm". In comparison to the university print studio, their heavyweight paper is 230gsm as well as the paper stock and quality being different as with Digital Printing I am getting a glossier print.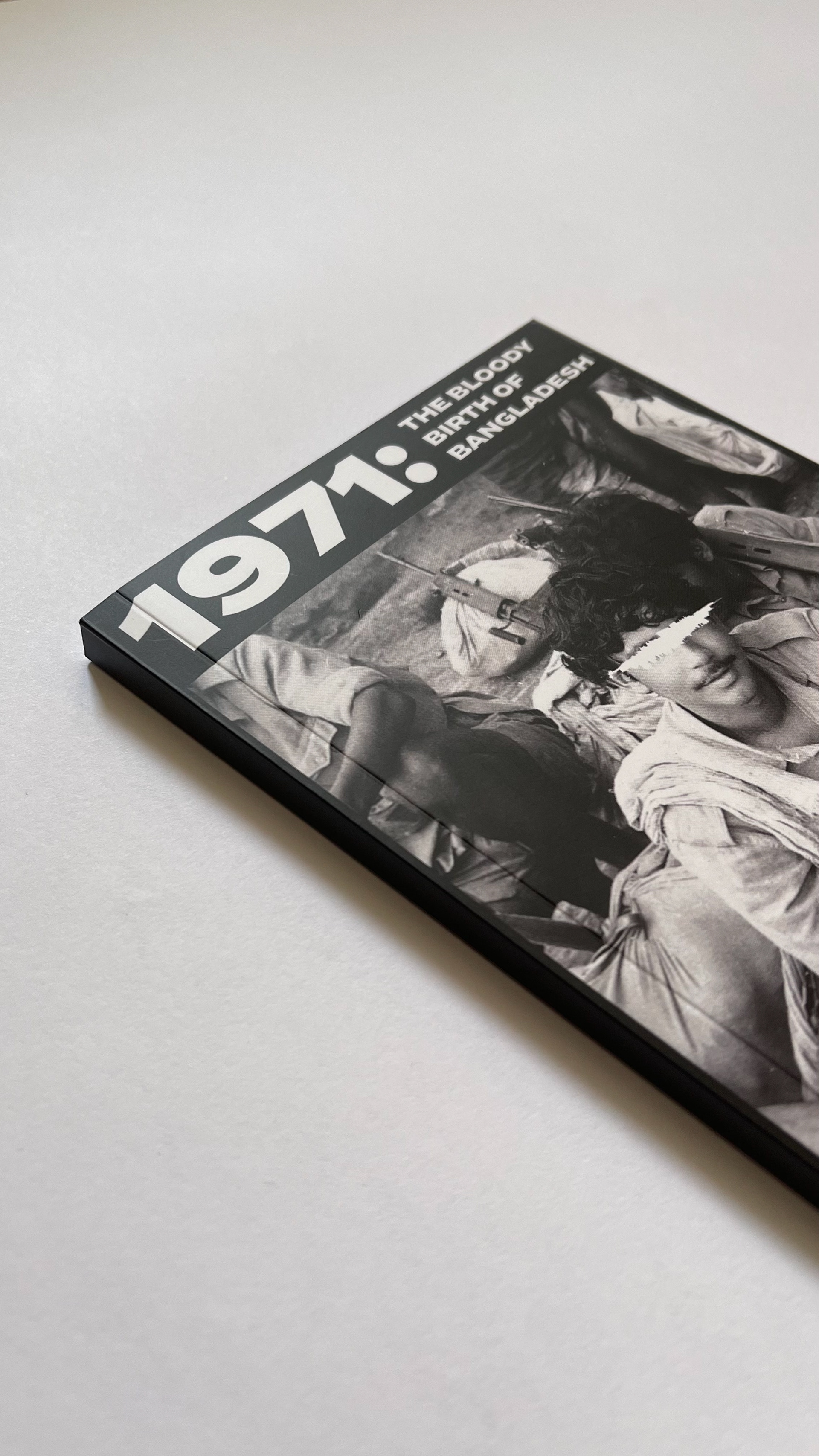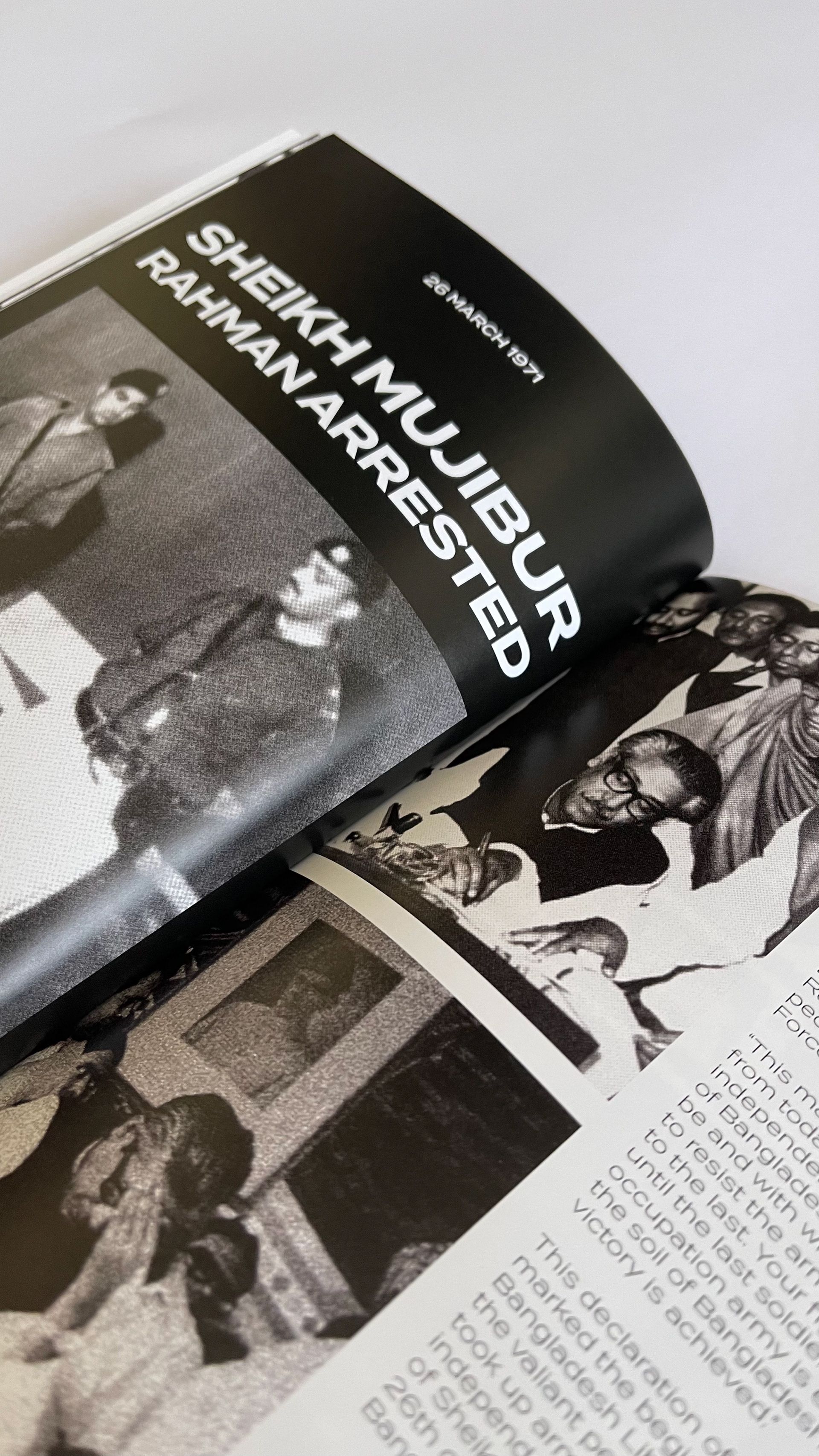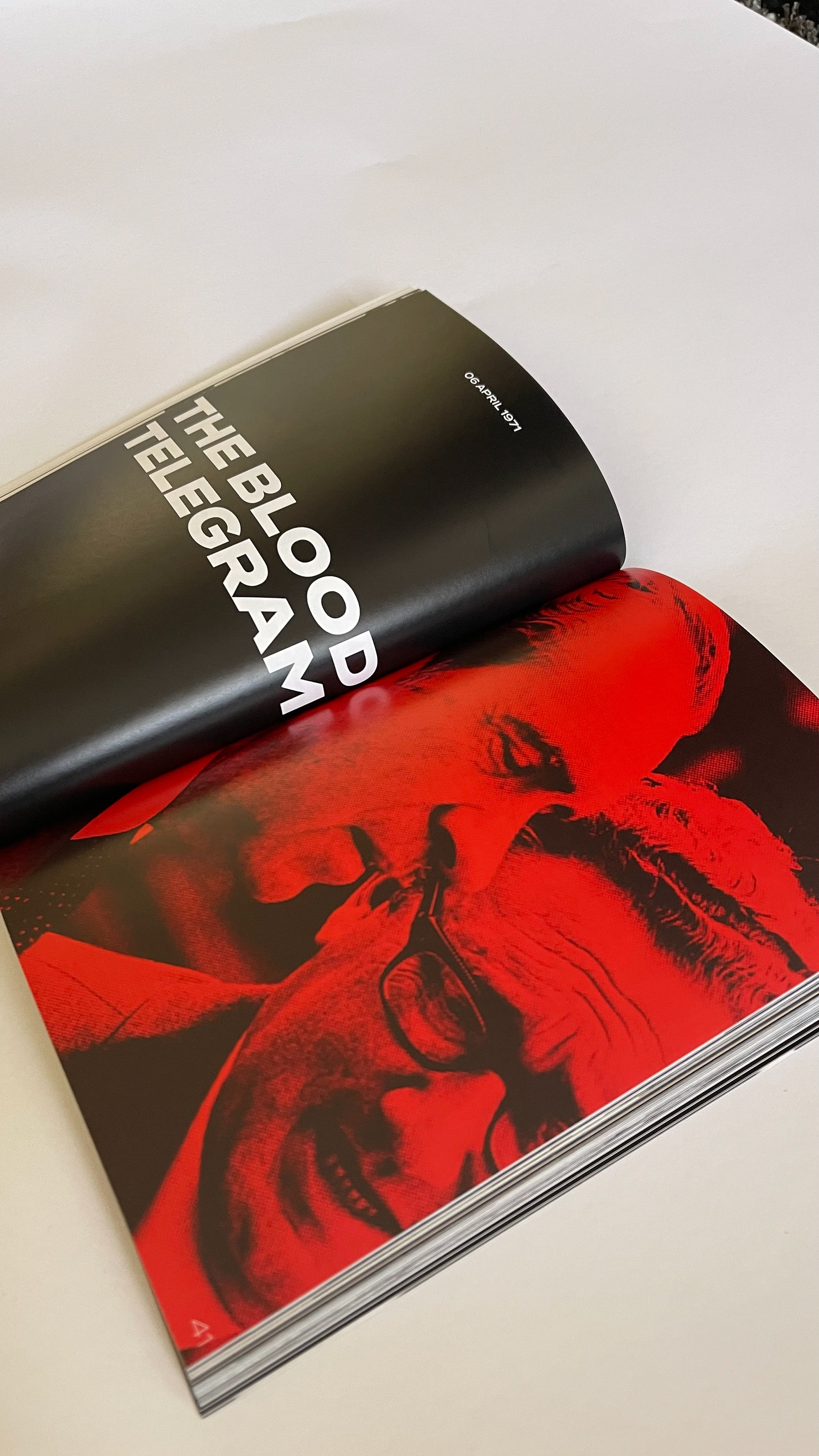 The Bloody Birth of Bangladesh is a book that explains Bangladesh's struggle for independence and the efforts it took to get there. To explain events leading up to the war, events that occurred during the war, and major events that occurred after the war, I choose to utilise a timeline.
Because many young people, particularly Bengalis, have no understanding how Bangladesh became independent from Pakistan or what happened during the Liberation War, the publication is targeted at a young audience. As a result, the target audience can learn about the conflict and the difficulties Bangladesh faced in gaining independence from Pakistan.
In order to effectively reach the target demographic, the book would be available for purchase both online and in bookstores.